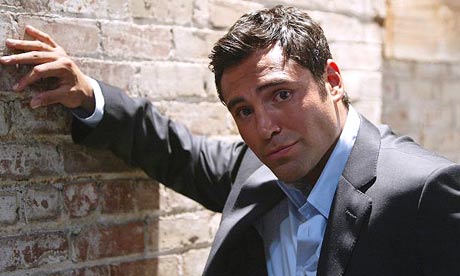 Oscar de la Hoya has checked into rehab, reports the LA Times. The former world champion referred in a statement only to "certain issues that I need to work on" while CBS claimed alcohol and cocaine had been blamed by a gossip website.
Followers on Twitter may have sensed it as recent posts featured an air of self-analysis from "Good morning everyone. Today is the day to change one bad habit we have. happy hump day" to "Stop finding excuses not to live. life is controlled by what you make of it and not of what it makes of you". Subsequent tweets seemed to confirm he is trying to "make amends", a step central to many programmes. Apologising: "To manny paquiao for any wrong doing in my part. you are a great champion. I have realized that by accepting my mistakes"; then building bridges with promoter Bob Arum with whom De la Hoya's Golden Boy Promotions has been in dispute: "Dear bob arum first I would like to humbly apologize for any pain I have caused to you ..."
This step seems to be working. Asked whether it may clear the way for fighters from both promoters to meet, Arum said: "We can certainly work together." It makes possible a bout between Pacquiao and Golden Boy's Victor Ortiz, as well as, importantly for fight fans, representing whatBoxingScene described as a "love train" that could "give an impetus to making the Mayweather-Pacquiao superbout [happen] in 2012".